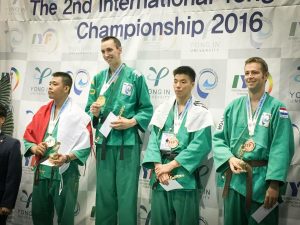 Son of Deceased SFPD Member Wins Prestigious Martial Arts Competition
By Darlene Hong
Korean Martial Arts Center
And SF Police Credit Union
Recently, Alex Fogarty, the son of one of our very own former San Francisco police officers Clifton Fogarty (deceased), was selected from across the entire nation to represent the United States of America in an international championship competition in the sport of Yongmudo (mixed martial arts).
All 18 selected members of the US national team spanned all across the United States, some coming from as far as Pennsylvania, North Carolina, and others from California. The championships took place at Yongin University in Yongin, South Korea.
After a long flight and not expected to even make it to the podium, Alex was able to take 1st Place after beating competitors from the Netherlands, as well as Indonesia. He is also the only American to ever claim a Gold Medal at this world championship. His next major goal in life is to be enlisting in the Marine Corps (to follow in his father's footsteps) and he will be attending boot camp in early November.
Alex and his family lost their father when he died peacefully on October 26, 2015. Cliff had served the San Francisco Police Department for 32 years, and was a former US Marine in his earlier years. He was a great man and an incredible father to his family.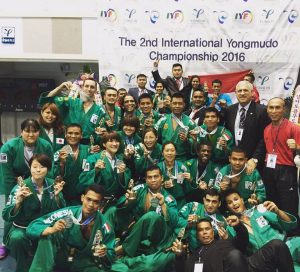 To learn more about the Cheongju World Martial Arts Masterships and Yong In World Championship Results – Click Right Here!